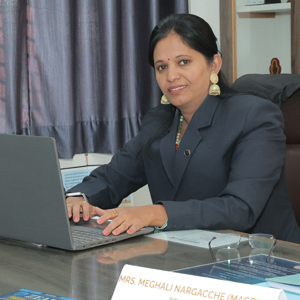 Meghali Deepak Nargacche
Principal,
Zeal International School, Bamnoli, Sangli
Dear Parents,
It gives me immense pleasure to welcome you all to Zeal International School, Sangli.
Zeal International School is being run under the aegis of a well-established Management "Zeal Educational Society" that has earned its own niche in the field of education and rightly knows that the role of a school is not only to pursue academic excellence but also to motivate and empower its students to be lifelong learners, critical thinkers, and productive members of an ever-changing global world.
We believe that every child is a very special individual who needs a happy, secure and challenging environment in which to learn, to grow and spread their wings. Our school promises a curriculum with child centric learning, encouraging activity based learning thus blending cognitive, effective and psychomotor domains in the process.
We follow the CBSE pattern blend with more focus on STEM education, various Olympiads and Life Skills. For this we have developed various labs like English lab, Math lab, Physics, Chemistry , Biology labs, Geography lab, Computer lab and the most latest Robotic lab. We are constantly improving our teaching methodology so that it turns learning into combination of classroom study, research and scientific discovery.
The school is striving hard to make the best possible efforts to inculcate strong values combined with academics and extra-curricular activities like dance, music, acting, drama, rifle shooting and archery for which we have developed proper studios and theatre .While academic excellence is our major thrust, the school is also devoted to prepare the students for life, groom them to face the challenges of tomorrow, and encourage them to be socially relevant. We constantly endeavour to always live up to this ideology as we firmly believe that it is our responsibility to enable the child in our care to develop as a whole.
Our parents are the most strengthening power in moulding the future of children. Their consistent support empowers us to do more and more .I hope and pray for their faith in us and a supportive environment at home.
I am confident enough ,that whatever path our student chooses steeped with effort, dedication, and the proper atmosphere for multifaceted development the Zealites will make themselves stronger day by day, and channelize their potential in the pursuit of excellence, adding a new leaf to the grandeur of the School.
Thank you & God bless you all for your trust in us.